Turk - Watson Family Burial Ground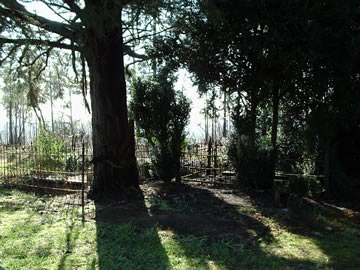 Location:
From the Baldwin County Courthouse, go west on Hancock Street for 2 blocks or 0.2 mile (or the one large block containing Georgia College & State Univ.). Turn right on Clarke Street. Go one large block or 0.2 mile. Turn left onto Highway No. 22 (west) or Montgomery St. Go 5.0 miles. Turn right on Old Monticello Rd. Go 1.4 miles on Old Monticello Rd. Turn left on Watson Rd. Go 0.4 mile. House and cemetery are on left. Cemetery is 200 feet to the right rear of the house. Big cedar trees and boxwood nearby. Iron fences around some of the graves.
GPS coordinates: 33 05' 07.9" N 83 19' 49.5" W
or in degrees only form: 33.08553° N X 83.33042° W
See location on a Google map in a new window
(
NOTE:
The map opens in a new window. The cemetery will be at the location indicated by a red marker.)
GMD: 319
Cemetery Status: Inactive
Predominant race: White
Cemetery was started by the Turk family. In 1889, the land was sold to the Watson family. The cemetery includes both families.
Rebecca Johnson Turk

Dec 13, 1796 - Mar 4, 1864

Grave 1
Richard H. Turk

Oct 15, 1837 - Dec 18, 1858

Grave 2
James T. Allums

Grandson of Thomas Turk. Graves 1-3 within one fenced area. Died during visit from Alabama per Virginia Watson Brown

Grave 3
Unmarked Adult Slab - Charlton Moore

Identity per Virginia Watson Brown.

Grave 4
Unmarked Adult Slab - Mary (Mollie) Moore Watson

Mar 3, 1848 - May 10, 1936

sister of Charlton Moore per Virginia Watson Brown, dau of Mrs. Robert Watson

Grave 5
Edwin M. Winn

Jul 25, 1873 - Nov 29, 1901

Insignia with RP FCB and a bird with arrows. [means "Royal Purple, the order of Friendship, Charity and Benevolence" or the Knights of Pythias]

Grave 6
Unmarked Child Slab - Robert Malcolm Watson, Jr.

Mar 20, 1921 - Jun 17, 1923

died from colitis per Virginia Watson Brown

Grave 7
Unmarked Adult Slab - Frances Moore Bealls


- Oct 6, 1921

taught school per Virginia Watson Brown

Grave 8
Unmarked Adult Slab - Katie Moore Holland


- 1920

died in Texas per Virginia Watson Brown

Grave 9