John Howard Family Burial Ground
a.k.a. Williamson-Howard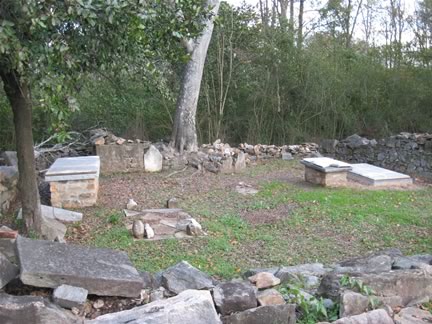 Location:
From the Baldwin County Courthouse, go one block east on Hancock to Wayne St. Turn right (south) on Wayne St. Go 3 blocks to Franklin St. Turn left (east) on Franklin. Go 2 blocks to Elbert St. Continue on Franklin crossing Elbert St and turn on the 1st dirt road (Warren St.) to the right. Go 0.2 mile. Near the end of road is the cemetery. Cemetery is behind house numbered 610. Cemetery is within a decaying granite wall.
GPS coordinates: 33 04' 30.4" N 83 13' 09.4" W
or in degrees only form: 33.07511° N X 83.21928° W
See location on a Google map in a new window
(
NOTE:
The map opens in a new window. The cemetery will be at the location indicated by a red marker.)
GMD: 320
Cemetery Status: Inactive
Predominant race: White
1st City Cemetery
John Howard

Oct 4, 1761 - Apr 13, 1822

"A plain man of inflexible integrity who did equal justice to all people. He was revered by his friends and adored by his numerous family".
Military Service:
Major on stone. Was
commissioned major of 3rd Bn, Ga.Militia
Feb 19, 1801, per Hist. of Ga Mil Vol I.
Click for more info.
Grave 1
John Howard Rutherford

Jan 3, 1811 - Sep 16, 1814

"Remembrance of the Interred" Probable s/o Eliza Howard Rutherford and Robert Rutherford, per Anne Barrett Chamlee
Click for more info.
Grave 2
Anna Williamson

Apr 19, 1821 - Aug 1, 1822

d/o Charles & Anna V. Williamson. After a short illness with croup. Age 1 yr, 3 mo, 13 days. [Her mother, Ann(a) V. Howard Williamson was d/o of John Howard, per eds.]
Click for more info.
Grave 3
Dr. Charles Williamson


- Oct 16, 1828

Grave 4
Arabella Howard

"In remembrance of sweet Arabella Howard, aged 3 years", per
Federal Union
, 1879. Part of stone found and mounted in cemetery in 2008.
Click for more info.
Grave 5
Unmarked Grave

A large vault that may have contained as many as 5 graves.

Grave 6
Unmarked Adult Grave

Grave 7
Unmarked Grave

other possible graves.

Grave 8
Unmarked Adult Grave - Edith Smith Howard


- Jan 27, 1829

Age 89 yrs. b. Virginia. d. at house of Wm. H. Torrance, per Southern Recorder obituary. She is likely to be buried here.

Grave 9