Baldwin County (Georgia) Cemeteries
Cemetery details

Rose - Little Cemetery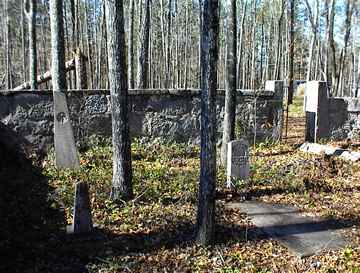 Location:
From the Baldwin County Courthouse, go east on Hancock St. for 0.2 miles and turn left on Jefferson St. Go north on Jefferson for 4-1/2 miles out of Milledgeville (keep straight after the intersection of Log Cabin Rd and go past Florence Drive on the right). Turn right when the road curves to the right on Fraley Ferry Road. Go 200 yards (1/2 block). Cemetery is on the right in the woods, about 50 feet from the road. Part of cemetery is within a granite wall.
GPS coordinates: 33 08' 45" N 83 13' 53" W
or in degrees only form: 33.14583° N X 83.23139° W
See location on a Google map in a new window
(
NOTE:
The map opens in a new window. The cemetery will be at the location indicated by a red marker.)
GMD: 318
Cemetery Status: Inactive
Predominant race: Both Black and White
William McGehee

ca. 1749 - Jan 31, 1829

m. Catherine Clem, per editors
Military Service: American Revolution
Morton's Co., 4th Va. Regt. Fought in

Grave 1
Allen Little

Mar 4, 1784 - Dec 24, 1853

Grave 2
Elizabeth Ann Little

Dec 14, 1831 - Jul 17, 1845

d/o Allen Little, per family records.

Grave 3
Mary Etta Victoria Little

Sep 12, 1835 - ca. Sep 18, 1835

Age 6 days. d/o Allen Little

Grave 4
Unmarked Grave - Nancy Little


- 1821

m/o Allen Little, grand m/o Maryetta V. and Elizabeth Ann Little, per Mrs. L. Little

Grave 5
Unmarked Adult Grave - Catherine Clem McGehee

Grave 6
Unmarked Grave - Elizabeth Clem McGehee

Info per family records. d/o William & Catherine Clem McGehee. m.1st - John McGehee; m.2nd - Washington Rose

Grave 7
Louie Lee

Nov 2, 1897 - Jul 13, 1951

Outside the wall.
Military Service: World War I
Georgia Pvt, 157 Depot Brigade

Grave 8
Elbert Brown


- Nov 2, 1924

Outside the wall.
Military Service: World War I
Georgia Pvt. 314 Service Battalion

Grave 9
Unmarked Slab - Angela?


Mar
Age 68 Stone not readable

Grave 11
Unmarked Graves

Canvassers estimate at least 60 graves in this cemetery.

Grave 12
Unmarked Grave - Roxie Nelson Hicks

Somewhere in this cemetery per Hicks family

Grave 13
Unmarked Grave - Mary Emma Nelson Ray

Somewhere in this cemetery per Hicks family

Grave 14
Unmarked Grave - Emanuel Harris

Somewhere in this cemetery per Hicks family

Grave 15
Unmarked Grave - Nathaniel Harris

Somewhere in this cemetery per Hicks family

Grave 16
Unmarked Grave - Jimmy Lee

Somewhere in this cemetery per Hicks family

Grave 17