Horne Cemetery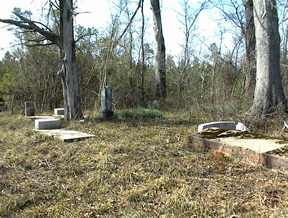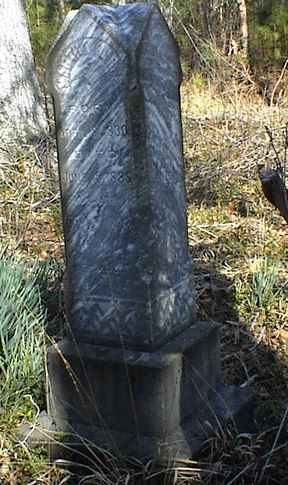 Location:
From the Baldwin County Courthouse, go west on Hancock Street for 2 blocks or 0.2 mile (or the one large block containing Georgia College & State Univ.). Turn right on Clarke Street. Go one large block or 0.2 mile. Turn left onto Highway No. 22 west (Montgomery St.). Go 7.8 miles. Turn right on Lawrence Rd. Continue on Lawrence Rd. past the Pleasant Grove Church on the left. One half (1/2) mile past the church is an intersection (crossroads) of Nelson Road. At this intersection and across Nelson Road, is a lane on the left which parallels Lawrence Rd. This lane leads to the site of the old Horne home.

Go down the lane. Currently there are two forks off the lane to the right. Take the second fork and walk 100 feet. Take the path to the left for about 100' that leads to the cemetery. The cemetery is in a small clearing among some very large hardwood trees.

Also of interest. Do not take the fork. Continue toward the old home site. About one block (1/4 mile) before reaching the old home site, there were two old hickory trees (stumps or dead trees are all that remain). Between these hickory trees may have been a gate or entrance to the cemetery. The cemetery is located about one city block from this entrance from the lane, off to the right of the lane. It is not visible from the lane.
GPS coordinates: 33 04' 02" N 83 23' 37" W
or in degrees only form: 33.06722° N X 83.39361° W
See location on a Google map in a new window
(
NOTE:
The map opens in a new window. The cemetery will be at the location indicated by a red marker.)
GMD: 319
Cemetery Status: Inactive
Predominant race: White
Total distance of the cemetery from the intersection of Nelson and Lawrence is 0.39 mile bearing 219 degrees.
Thomas Brown Horne

Dec 29, 1818 - Mar 5, 1865

Grave 1
Martha Butts Horne

Apr 8, 1830 - Jun 19, 1885

Maiden name per editors.

Grave 2
Lizzie Howard Horne

Jul 15, 1862 - May 14, 1910

w/o A.I. Horne; d/o T.J. Howard and Elmira Churchill. "Rest in peace nature's noble woman." b. Canton, IL, per family bible. Left 5 daughters, the youngest being 3 days.

Grave 3
Alfred Iverson Horne

Nov 17, 1861 - Jun 30, 1928

s/o Thomas B. Horne First name per editors.

Grave 4
John Carlton Harrington

Oct 29, 1836 - Nov 8, 1879

"Father" h/o Laura Ophelia Miller, per editors. Middle name per editors.

Grave 5
Unmarked Child David H. C. Harrington

Dec 17, 1862 - May 1864

No marker but possibly buried here.

Grave 6
Mattie Horne Wynne

Jan 19, 1864 - May 24, 1904

on same headstone as Julian Stovall Wynne

Grave 7
Julian Stovall Wynne

Feb 20, 1859 - Jul 1, 1906

Middle name per editors.

Grave 8
Thomas Howard Horne

Nov 26, 1857 - Jul 26, 1922

First name per editors.

Grave 9
Levi Horne

Apr 19, 1774 - Jan 11, 1855

No marker but buried here per family bible.

Grave 10
John Wingfield Horne


- Jul 18, 1864

No marker but buried here per family bible.

Grave 11
Unmarked Grave

Possibly 2 or 3 more unidentified graves.

Grave 12
A marker placed by Mrs. Roland Lawrence showing the location of 14 slaves buried under large tree that came from the original Virginia home of Mr. Thomas Horne's wife.

Grave 13