Baldwin County (Georgia) Cemeteries
Cemetery details

West - Neal Cemetery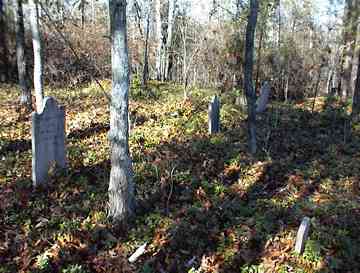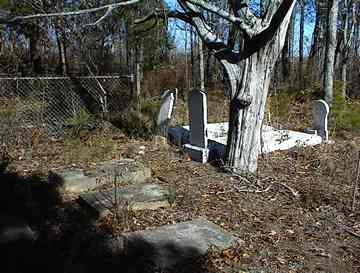 Location:
From the Baldwin County Courthouse, go west on Hancock St., which becomes Highway 49, and follow Highway 49 south for approximately 10 miles from the Courthouse. Turn left from Hwy 49 onto County Line Church Road. Go approximately 1/2 mile (until you get to the double tower power lines on the left side of the road). Face the power line right-of-way when standing at the point where County Line Church Road and the left side of the power line right-of-way meet. The cemetery is 0.1 mile north (which is diagonal across the field to your left). The cemetery cannot be seen from the highway. The cemetery is currently in a woods behind a field. Another option is to walk up the left side of the power line right-of-way for 500 feet (to a slight path) and turn left. Then go 200 feet through the woods to the cemetery. The cemetery should be about 20 feet on your right as you walk through the woods.
GPS coordinates: 32 59' 55.5" N 83 21' 22.1" W
or in degrees only form: 32.99875° N X 83.35614° W
See location on a Google map in a new window
(
NOTE:
The map opens in a new window. The cemetery will be at the location indicated by a red marker.)
GMD: 322
Cemetery Status: Inactive
Predominant race: White
Dr. Austin Neal

Feb 5, 1822 - Apr 5, 1878

Grave 1
Ann West Neal

May 3, 1837 - Apr 29, 1917

Grave 2
S. B. Fuller

Military Service: Confederate States of America
Pvt. Co. F, 55th Ga. Inf. On detached
service at Andersonville, GA with Co B
55th Ga. in 1864, per RCSG.
Click for more info.
Grave 3
Leah West Lord

Oct 16, 1832 - May 25, 1905

Grave 4
John West Ivey

Oct 19, 1824 - Jun 12, 1878

Grave 5
John Stanley Ivey

Oct 8, 1868 - May 30, 1870

Grave 6
Matilda Ann Ivey

Mar 4, 1855 - Aug 7, 1856

Grave 7
Dempsey Justice

ca. 1766 - Feb 1, 1827

in the 61st year of his age.
Military Service: American Revolution
per DAR records.
Click for more info.
Grave 8
Milley Justice


- Nov 9, 1828

Grave 9
Stephen Justice

ca. 1805 - Nov 16, 1828

Grave 10
Sarah Moore

Apr 15, 1828 - Jun 2, 1900

Grave 11
Harriet A.S. Miller

Jan 27, 1850 - Apr 5, 1850

Grave 12
Ardeoro F. Shaw

Feb 22, 1852 - Apr 30, 1877

Grave 13
Tom H. Foshee

Nov 22, 1903 - Jan 1, 1912

Grave 14
Sally Martin

May 16, 1867 - Jun 7, 1938

Grave 15
Billy Foshee

no dates

Grave 16
K. S. Foshee

Nov 22, 1862 - Apr 27, 1921

Grave 17
Betty Foshee Fuller

no dates

Grave 18
Bessy Foshee Folendore

Grave 19
Unmarked Adult Slab

3 adult slabs

Grave 20
Unmarked Infant Slab

4 infant slabs at head of Dr. Neal's grave

Grave 21
Unmarked Grave

several depressions and rocks that may be grave markers

Grave 22