William Felton Rice Cemetery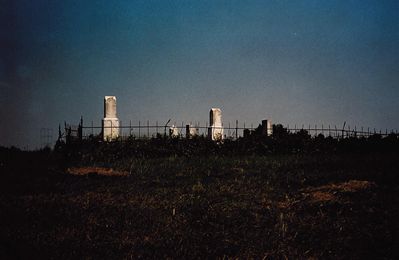 Location:
From the Baldwin County Courthouse, go west on Hancock St. which becomes Highway 49 and follow Highway 49 south for 8.4 miles from the Courthouse. Turn left on Salem Church Rd. Cemetery is about 1.1 miles from this turn, on the left, in a field on a high hill, with a gravel road curving by the base of the hill.
GPS coordinates: 33 00' 18.7" N 83 19' 42.5" W
or in degrees only form: 33.00519° N X 83.32847° W
See location on a Google map in a new window
(
NOTE:
The map opens in a new window. The cemetery will be at the location indicated by a red marker.)
GMD: 322
Cemetery Status: Active
Predominant race: White
GPS reading from nearby road.
Carrie E. Rice

ca. 1861 - Sep 26, 1878

aged 17 years per TT

Grave 1
William Rice

May 13, 1813 - Dec 28, 1881

Grave 2
Helen L. Rice

Apr 14, 1851 - Sep 3, 1901

Grave 3
Evelyn Rice

May 17, 1913 - Oct 28, 1915

Grave 4
Leone Etheridge Rice

Feb 27, 1886 - Dec 21, 1916

Grave 5
Annie Celia Bivins Rice

Feb 22, 1866 - Aug 29, 1931

Grave 6
William Rice

Sep 27, 1854 - Jan 15, 1930

Grave 7
Ann Ola Rice

Nov 25, 1851 - Jun 2, 1929

Grave 8
Mary Eliza Rice

Jul 18, 1843 - Jan 24, 1910

Grave 9
Eliza H. Torrance Rice

Oct 3, 1819 - Jan 26, 1910

Grave 10
Felton Rice

Dec 1, 1888 - Mar 10, 1955


Military Service: World War I
Ga CPHM US Navy

Grave 11
Calvin Wilson Rice

Apr 5, 1912 - Sep 30, 1976

Grave 12
Anna Christine Holloway Rice

Jan 17, 1910 - May 22, 1999

Grave 13