Baldwin County (Georgia) Cemeteries
Cemetery details

Mount Olive Churchyard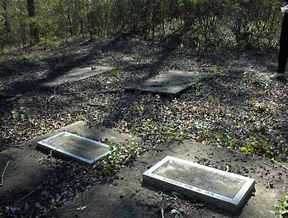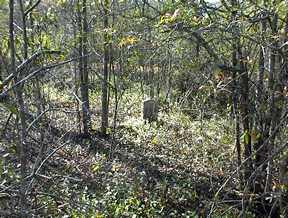 Location:
From the Baldwin County Courthouse, go east on Hancock St. and follow Highways 22/24 southeast for 4.4 miles. Where Highways 22 and 24 split, bear right on Highway 24. Go another 1.3 miles to County road 182 (unpaved). Turn left. Go 0.6 mile. The cemetery is on the right and is set back about 25 feet from the road. Some of the cemetery is in a small clearing; some is in the woods.
GPS coordinates: 33 04' 47" N 83 07' 52" W
or in degrees only form: 33.07972° N X 83.13111° W
See location on a Google map in a new window
(
NOTE:
The map opens in a new window. The cemetery will be at the location indicated by a red marker.)
GMD: 115
Cemetery Status: Inactive
Predominant race: White
Charles S. Jones


- 1890

d. Hancock Co, Ga. Death and service info, per RCSG. Grave is in bushes, about 20 ft. from other cleared graves, on the right facing away from the road and toward the cem
Military Service: Confederate States of America
Co. H. 57th Ga. Inf. Pvt on May 10, 1862
Wounded in leg at Baker's Creek, Miss.
on May 16, 1863

Grave 1
Zachariah Brookins

Nov 15, 1818 - Jul 26, 1886

Grave 2
Dan Brookins

Mar 6, 1847 - May 8, 1924

Grave 4
Susan Vinson Brookins

1846 - Apr 28, 1910

m. Nov 26, 1876

Grave 5
Unmarked Graves

Crumbling brick vaults and sandstone markers -- none of which have inscriptions. At least 10 depressions or graves in woods, on the Hwy 24 side of the cleared area.

Grave 6
Unmarked Graves

About 10 graves in the cleared area.

Grave 7
Unmarked Adult Grave - Benjamin Cook

May 24, 1809 - Sep 16, 1890

Age 81. All info per obituary (attached). He is buried somewhere in this cemetery.
Click for more info.
Grave 8