Baldwin County (Georgia) Cemeteries
Cemetery details

Samuel Slaughter Family Burial Ground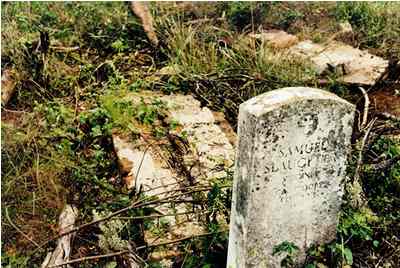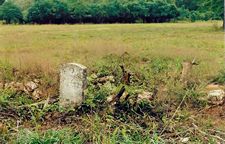 Location:
From the Baldwin County Courthouse, go east on Hancock St. and follow Highway 22 (Sparta Hwy) east for 1.1 miles. Turn right on Kings Road. Follow Kings Rd. for 2.5 miles until Stembridge Road intersects. Turn right on Stembridge Rd. Go 0.3 mile to 243 Stembridge Rd (the 4th driveway). The 3 graves are on the right, approximately 1000 feet (333 yards) from the road and on the left front side of the house.
GPS coordinates: 33 03' 50.9" N 83 10' 48.2" W
or in degrees only form: 33.06414° N X 83.18006° W
See location on a Google map in a new window
(
NOTE:
The map opens in a new window. The cemetery will be at the location indicated by a red marker.)
GMD: 115
Cemetery Status: Inactive
Predominant race: White
Located on Baldwin County Tax Map #092-021E.
Samuel Slaughter

1752 - 1821

Birth year per other records. [s/o Ezekiel, b/o Reuben. b. Virginia. All 3 Revolutionary soldiers.] Per L. Horne
Military Service: American Revolution
Ga. Troops
Click for more info.
Grave 1
Unmarked Graves

2 graves found in 1998. No longer visible in 2005.

Grave 2