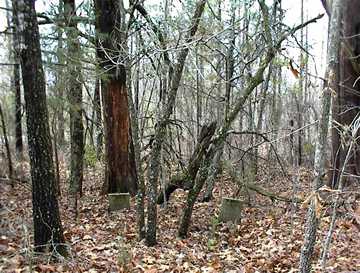 Location:
From the Baldwin County Courthouse, go east on Hancock St. and follow Highways 22/24 southeast. At the split of Highways 22 and 24, bear right on Hwy 24 (Sandersville Rd), and go for 3.2 miles to Deepstep Road. Turn left at the intersection of Highway 24 and Deepstep Road, go exactly 3 miles. Stop. Look to your left in the woods. Two large cedar trees mark the location of the cemetery. The trees are approximately 30 yards into the woods. If you cross a natural gas pipeline, you have gone about 100 yards too far. The dates and information given are partially from family and other official records.
GPS coordinates: 33 03' 16.5" N 83 04' 36.7" W
or in degrees only form: 33.05458° N X 83.07686° W
See location on a Google map in a new window
(
NOTE:
The map opens in a new window. The cemetery will be at the location indicated by a red marker.)
GMD: 115
Cemetery Status: Inactive
Predominant race: White
Located on Baldwin County tax map 113-004
Unmarked Grave - Jared Wood

s/o Cullen and Maria Wood, per P.M. Wood

Grave 3
Unmarked Grave - John Randolph Wood

1871 - 1888

d. of Typhoid. All info per P.M. Wood.

Grave 6
Unmarked Grave - Louisa Jane Wood

1877 - 1888

d. of Typhoid. All info per P.M. Wood.

Grave 7