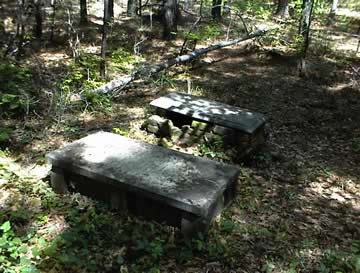 Location:
From the Hancock County Courthouse, travel southwest on Hwy 22 for approximately 7.3 miles until you come to Pearson Chapel Road on the left. Turn left onto Pearson Chapel Road, and go 2.6 miles. The cemetery is on your right; walk approximately 285 feet into the woods to the cemetery.
GPS coordinates: 33 11' 38.9" N 83 02' 23.1" W
or in degrees only form: 33.19414° N X 83.03975° W
See location on a Google map in a new window
(
NOTE:
The map opens in a new window. The cemetery will be at the location indicated by a red marker.)
GMD: 117
Cemetery Status: Inactive
Predominant race: White
Indexer or Contributor: Carolyn Waddell Stembridge, Mona Williams, Kathy Fuller, and Susan Harrington
Clara H. Pearson

Jul 2, 1860 - Nov 5, 1862

Aged 2 yrs and 4 mos. Birth date and d/o Jeremiah Pearson, per Carolyn W. Stembridge. Grave was once decorated by concrete lamb, but it has been removed.
Click for more info.
Grave 1
Alexander A. Pearson

Nov 15, 1866 - Jun 30, 1868

Aged 1 year, 10 months. The Lord gave and the Lord hath taken away. Our precious boy. Birth date, s/o Jeremiah Pearson, per Carolyn Waddell Stembridge.
Click for more info.
Grave 2