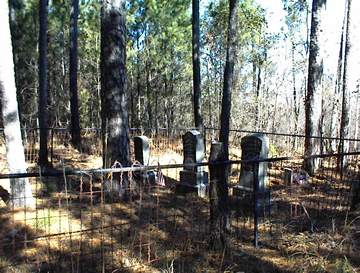 Location:
From the Hancock County Courthouse, go west on Hwy 22 for 0.2 mile. Turn right on Dixie Road. Go 1 mile. Turn left on Lake Shore Road (old Pumping Station Road) and proceed 7.8 miles to the "T" intersection with Warren Chapel Road. (Note: this "T" intersection with Pumping Station/Lake Shore Road has Warren Chapel Road to the left and Harper Cemetery Road / Rives Rd. / Crestline Dr. to the right). Turn right on old Harper Cemetery Road and go 0.7 mile. Turn right under the power line onto Rives Road (unmarked dirt road), and go less than 0.1 mile to power pole 92-59-003 on the right. Go up the bank on the right. The cemetery is ahead of you (east) and about 100 feet from the road. A rusty wire fence is around the cemetery.
GPS coordinates: 33 17' 14.4" N 83 07' 04.5" W
or in degrees only form: 33.28733° N X 83.11792° W
See location on a Google map in a new window
(
NOTE:
The map opens in a new window. The cemetery will be at the location indicated by a red marker.)
GMD: 101
Cemetery Status: Inactive
Predominant race: White
Site of the Antioch Methodist Church, which burned long ago (no date).
Indexer or Contributor: Tilmon & Anne Chamlee, Wendell Smith and Janice Smith
John Wyatt Harper

Aug 19, 1875 - Jul 20, 1891

s/o B. I. & M. H. Harper. "We can safely leave our boy, Our darling in Thy Trust."
Click for more info.
Grave 1
B. I. Harper

May 15, 1834 - Jan 20, 1896

Grave 2
Marion H. Harper

Dec 14, 1840 - Dec 26, 1901

w/o B. I. Harper. "Dearest Mother, thou hast left us, Here thy loss we deeply feel, But 'tis God that bereft us. He can all our sorrows heal."
Click for more info.
Grave 3