Charles Abercrombie gravesite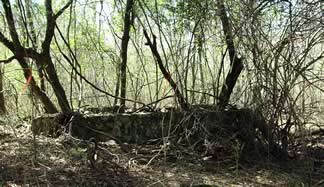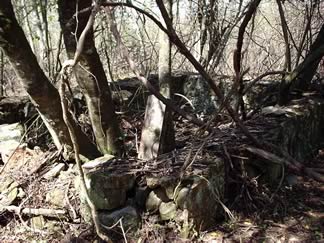 Location:
From the Hancock County Courthouse, go west on Hwy 22 for one block. Turn left and go 3 blocks on Rabun / Maiden Lane to where the pavement ends. Continue on a private drive for 0.1 mile to a tan house which is on the right. To your left and in front of the house is a pecan orchard. Walk for about 300 yards through the pecan orchard and beyond it into the woods to an ATV or woods trail. Follow this trail to the right and go for 0.2 mile. The walled cemetery will be to the right of this trail, not visible from the trail, about 100 feet off the trail and at the back of a small rise.
GPS coordinates: 33 15' 49.7" N 82 59' 08.0" W
or in degrees only form: 33.26381° N X 82.98556° W
See location on a Google map in a new window
(
NOTE:
The map opens in a new window. The cemetery will be at the location indicated by a red marker.)
GMD: 113
Cemetery Status: Inactive
Predominant race: White
The cemetery is on a slight incline and is walled, with the wall about 4 feet high at its highest point. The cemetery has room for 3-4 graves, but only one grave (a depression) could be seen.
Indexer or Contributor: Russell Poss and Susan Harrington
Maj. Charles Abercrombie


- Aug 23, 1821

[d.in 77th yr, per Ga.Jnl. 9/18/21, m.Edwina Dicey Melinda Booth in Orange County, N.C.] No dates on stone. Marr info per John Rozier and Dr. James W. May's family history.
Government Service.
Military Service: American Revolution
N.C. Mil. [Georgia state legislator and
senator]
Click for more info.
Grave 1