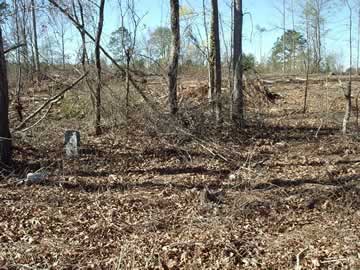 Location:
From Hancock County courthouse, go 0.1 mile east on Broad St. to Boland St. (2nd traffic signal). Turn right on Boland St.,which becomes Linton Rd, and go 11.4 miles to the intersection with Hitchcock Cemetery Road, which comes in from the right. Continue on Linton Road for another 0.6 mile. Turn right on a dirt road. Go 1.0 mile. Turn left onto a woods road. Go 0.1 mile. The cemetery is on the left side about 100 yards from the road.
GPS coordinates: 33 06' 28" N 83 00' 08" W
or in degrees only form: 33.10778° N X 83.00222° W
See location on a Google map in a new window
(
NOTE:
The map opens in a new window. The cemetery will be at the location indicated by a red marker.)
GMD: 118
Cemetery Status: Inactive
Predominant race: White
Family records and DAR records of the 1930's suggest that the name of this cemetery is the Gause Cemetery, a family which was associated with this cemetery after the Miller family. Therefore we have named it the Miller-Gause Cemetery.
Indexer or Contributor: Russell Poss, Tom Bell, and Steve Paolucci
Jonathan Miller


- ca. 1803

d. before Jan. 19, 1804. d. Hancock Co. See attached writeup for sources. Local DAR records say "He could speak the Creek Indian language".
Military Service: American Revolution
Ga. Troops. Note: although the grave is
marked by a Rev War marker, see attached
writeup for more info regarding service.
Click for more info.
Grave 1
Unmarked Adult Grave - Mary Miller

w/o Jonathan Miller. No marker exists, but she is probably buried in this cemetery.

Grave 2