Hancock County (Georgia) Cemeteries
Cemetery details
Quinn-Arnold Family Cemetery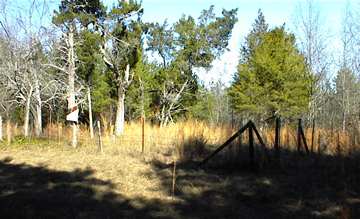 Location:
From the Hancock County Courthouse, take Hwy 22 southwest for 7.2 miles to Devereux. Turn right (at the backwards fork) onto Main Street. Go 0.2 mile to the dead end and turn left onto Jones Chapel / Devereux Rd. Go approximately 4.5 miles. You will see the Walls Cemetery on the right. Just past Walls Cemetery is a woods road which goes behind Walls Cemetery. Take this road for 0.2 mile to a gate. Walk 0.1 mile further to the cemetery.

Alternately, from the corner of Jones Chapel and Carrs Station Road, drive 0.4 mile on Jones Chapel Rd to the driveway to the cemetery on the left (see above directions).
GPS coordinates: 33 11' 48.1" N 83 08' 01.3" W
or in degrees only form: 33.19669° N X 83.13369° W
See location on a Google map in a new window
(
NOTE:
The map opens in a new window. The cemetery will be at the location indicated by a red marker.)
GMD: 116
Cemetery Status: Inactive
Predominant race: White
Indexer or Contributor: Warren Layfield, Kathy Fuller, Susan Harrington
Number of persons found: 19
Little Ellen Weldon

Apr 27, 1944 - Apr 27, 1944

Grave 1
Unmarked Grave

Possible grave marked by a stone.

Grave 2
Lillian Kelly

Apr 30, 1919 - Jun 5, 1919

Grave 3
Thomas Kelly

Aug 6, 1916 - Aug 6, 1916

Grave 4
Unmarked Graves

No graves visible but room for 8-10 graves. One unmarked grave at the end of the area.

Grave 5
Unmarked Graves

No graves visible, but room for another 8-10

Grave 6
Elizabeth Arnold Layfield

Oct 5, 1840 - Jun 24, 1914

Grave 7
Greene B. Quinn

May 24, 1858 - Jul 14, 1911

"Blessed are the pure in heart for they shall see God."

Grave 8
Thornberry Arnold

Grave 9
Unmarked Graves

Space for 6-8 graves, with an additional 2 graves definite.

Grave 10
Eli Arnold


Military Service: Confederate States of America
Co. I, 59th Ga. Inf.

Grave 11
Unmarked Graves

Space for two graves but no graves visible.

Grave 12
Lucetta Arnold

Jun 16, 1871 - Jun 20, 1900

Grave 13
J. W. Arnold

Aug 17, 1876 - Dec 10, 1918

Grave 14
Unmarked Graves

Definitely 5 unmarked graves, with more possible in this, the third row.

Grave 15
Unmarked Graves

No graves visible but space for at least 5 graves in this, the 4th row.

Grave 16
Elishia Snipes


- Jun 18, 1873

No birth date.

Grave 17
Annie Snipes


- May 1, 1879

Grave 18
Unmarked Graves

No graves visible but space for 8-10 graves.

Grave 19