Thompson Family Cemetery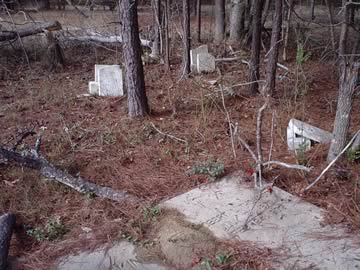 Location:
From the Hancock County Courthouse, go east on Broad St. for two blocks. Turn right on Boland St., which becomes Linton Rd, and go 12.8 miles, through Linton and to Thompson Road. Turn right and travel 0.6 mile. If accessed from Thompson Rd, the cemetery is 200 yards from the right side of Thompson Rd; otherwise, turn right on private drive and go 0.1 mile to the house. The cemetery will be 150 feet to the right of the drive and house.
GPS coordinates: 33 06' 17.4" N 82 59' 08.9" W
or in degrees only form: 33.10483° N X 82.98581° W
See location on a Google map in a new window
(
NOTE:
The map opens in a new window. The cemetery will be at the location indicated by a red marker.)
GMD: 118
Cemetery Status: Inactive
Predominant race: White
Private property.
Indexer or Contributor: Christy and Glen Cook
Number of persons found: 10
Lizzie Brookins Thompson

Jan 21, 1872 - Jan 15, 1943

Grave 1
Robert L. Thompson

Jul 21, 1878 - Feb 24, 1939

Grave 2
Julia Thompson

Jan 24, 1909 - Jan 1, 1910

Grave 3
Infant of R. L. & Lizzie Thompson

Oct 7, 1901 - Oct 10, 1901

We can safely leave our boy, Our darling in Thy trust.

Grave 4
Charles Thompson

Nov 27, 1824 - Dec 25, 1906

Grave 5
Julia L. Thompson

Jul 23, 1848 - Aug 29, 1884

"Mother, thou are now at home, 'Mong Angels far above, But yet below thy children must roam, Till summon'd by his love." w/o Charles Thompson.
Click for more info.
Grave 6
Unmarked Grave

Marked by a fieldstone.

Grave 7
Infant son of J. J. & C. K. Thompson

Apr 15, 1910 - Apr 19, 1910

J.J. is James Julian & C.K. is Climmie Kate, per Mary Thompson. "A little time on earth he spent, till God for him His angel sent."

Grave 8
Unmarked Child Grave - Louise Thompson

d/o James Julian and Climmie Kate Jackson Thompson. Age 3 years. Believed to be somewhere in this cemetery, per Mary Thompson.

Grave 9
Unmarked Child Slab

Grave 10