Harper Family Cemetery #1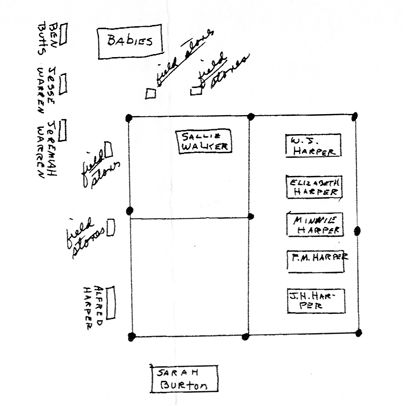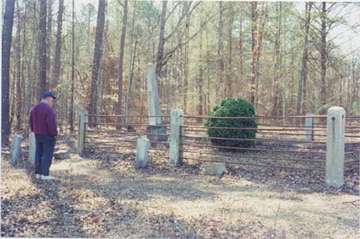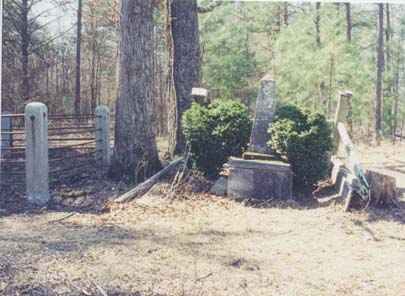 Location:
From the Hancock County Courthouse, go west on Hwy 22 for 0.2 mile. Turn right on Dixie Road. Go 1 mile. Turn left on Lake Shore Road (old Pumping Station Road) and proceed 7.8 miles to the "T" intersection with Warren Chapel Road. (Note: this "T" intersection with Pumping Station/Lake Shore Road has Warren Chapel Road to the left and Harper Cemetery Road / Rives Rd. / Crestline Dr. to the right). Turn right and go 2.4 miles on Harper Cemetery Road. The cemetery is on a slight hill on the left, about 100 feet from the road.
GPS coordinates: 33 17' 25.2" N 83 08' 34.8" W
or in degrees only form: 33.29033° N X 83.143° W
See location on a Google map in a new window
(
NOTE:
The map opens in a new window. The cemetery will be at the location indicated by a red marker.)
GMD: 101
Cemetery Status: Inactive
Predominant race: White
Indexer or Contributor: Anne and Tilmon Chamlee
Number of persons found: 12
W. J. Harper

Oct 21, 1838 - Nov 23, 1919

Grave 1
Elizabeth Hitchcock Harper

Sep 30, 1843 - Jan 18, 1933

Grave 2
Minnie E. Harper


- Jul 24, 1918

Grave 3
F. M. Harper

Oct 30, 1867 - Dec 16, 1930

Grave 4
J. H. Harper

Apr 21, 1874 - Mar 13, 1933

Grave 5
Sallie H. Walker


- Sep 22, 1874

w/o Samuel Walker. The obelisk has a "cabbage rose" engraved in it. Monument is tipped over in 2000.
Click for more info.
Grave 6
Sarah A. E. Burton


- Jul 5, 1853

w/o G. W. Burton, M.D. "She died in the belief that she was going to rest with her Heavenly Father. Beloved in life; regretted in death." Died in her 20th year.

Grave 7
Alfred P. Harper


Military Service: Confederate States of America
Co. H 4th Ga. Inf.

Grave 8
Jeremiah Warren


Military Service: American Revolution
Ga Troops

Grave 9
Jesse Warren


Military Service: American Revolution
Ga Troops

Grave 10
Ben Wingfield Butts

1859 - 1917

Masonic emblem.

Grave 11
Unmarked Infant Graves

A brick enclosed area may be the grave site of unmarked babies.

Grave 12