Kilgore Family Cemetery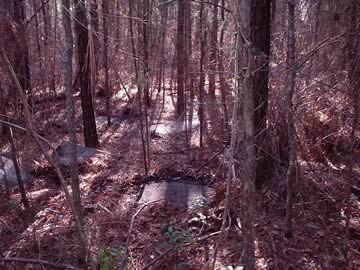 Location:
From the Hancock County Courthouse, go east on Hwy 15 (Broad St) for two blocks (0.2 mile) and turn right on Boland St. which becomes Linton Hwy. Travel 13.9 miles (bear right after 8-1/2 miles onto Beulah Highway at the Linton - Beulah Highway split) to Town Creek Rd. Turn right and travel 1.5 miles to a logging road on the left. This point is 0.2 mile from the cemetery, which can be found roughly as follows: follow the logging road to a hunting camp, then turn right on an ATV trail once through the hunting camp. Follow the ATV trail for 100 feet and turn left into the woods. The cemetery is on a small hill with a large cedar tree inside the wire enclosure.
GPS coordinates: 33 07' 29.1" N 83 06' 10.0' W
or in degrees only form: 33.12475° N X 83.10278° W
See location on a Google map in a new window
(
NOTE:
The map opens in a new window. The cemetery will be at the location indicated by a red marker.)
GMD: 117
Cemetery Status: Inactive
Predominant race: White
Enclosed with wire fence and metal gate. On private land.
Most of the graves have concrete slabs with handwritten names and dates, which are very difficult to read.
Indexer or Contributor: Glen and Christy Cook
Number of persons found: 13
Unmarked Infant Grave

A rock formation.

Grave 1
John Kilgore

Jul 17, 1863 - Dec 6, 1924

Grave 3
Susan Crooms Kilgore


- Jul 2, 1909

w/o John Kilgore.

Grave 4
Acie [Asa] Simmerson

An adult slab. While the spelling on the slab is "Acie", the traditional spelling has been "Asa", per Judy Smith, descendant.

Grave 5
Mrs. Acie Simmerson

An adult slab. See note on Acie Simmerson concerning spelling of "Acie".

Grave 6
Jarella [Jurelia] Simmerson Brown

Sep 1810 - Apr 26, 1906

w/o Alfred Brown. An adult slab that is broken into several pieces. "Jarella" has generally been spelled "Jurelia", per Judy Smith, descendant.

Grave 7
Alfred Brown

An adult slab.

Grave 8
Charlie Kilgore

Mar 7, 1858 - Jan 21, 1911

Grave 11
D?e Gillard? Kilgore


- Nov 17, 1910

w/o Charlie Kilgore. First and middle name unreadable.

Grave 12
Wilbur Denton

An infant slab. [s/o Bernice and Ruby Osborne Denton] per Glen Cook.

Grave 13