Green-Hudson Family Cemetery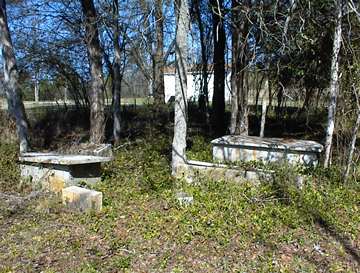 Location:
From the Hancock County Courthouse, go west on Hwy 16 for 9.3 miles to the cemetery, which is on the left side of the highway, about 50 feet from the highway. It is currently in a small grove of trees on property that is behind a chain-link fence.
GPS coordinates: 33 20' 41.6" N 83 06' 12.5" W
or in degrees only form: 33.34489° N X 83.10347° W
See location on a Google map in a new window
(
NOTE:
The map opens in a new window. The cemetery will be at the location indicated by a red marker.)
GMD: 103
Cemetery Status: Inactive
Predominant race: White
Cemetery is in need of restoration.
Indexer or Contributor: Kathy Fuller and Susan Harrington
Number of persons found: 8
Joseph A. Green

Aug 13, 1828 - May 31, 1844

"He giveth his beloved sleep."

Grave 1
Unmarked Child Grave

Grave 2
William G. Green

Oct 10, 1801 - Sep 3, 1879

"The dead in Christ shall rise first."

Grave 3
Mrs. Lucinda F. Green

Dec 4, 1807 - Aug 8, 1858

"Lo! The prisoner is released, Lightened of her fleshly load, Where the weary are at rest, She is gatherd (sic) unto God."

Grave 4
Unmarked Grave

a fieldstone marks the grave.

Grave 5
John E. Hudson

1825 - 1896

Grave not found in 2002. All info per Kimbrough list.

Grave 6
Carrie Hudson

1837 - 1896

Grave not found in 2002. All info per Kimbrough list.

Grave 7
Unmarked Graves

Possibly 2-4 more graves.

Grave 8