Hancock County (Georgia) Cemeteries
Cemetery details
Binion Family Cemetery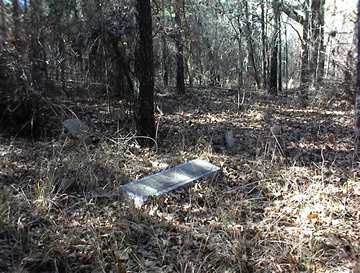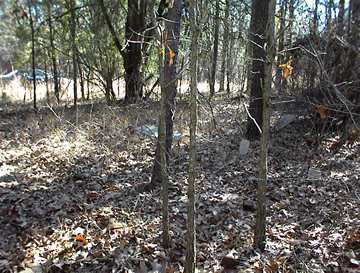 Location:
From the Hancock County Courthouse, go southwest on Hwy 22 for 7.2 miles to the intersection of Hwy 22 and Main Street in Devereux. Turn right on Main Street and go 0.2 mile to Church Street on the left. Turn left and follow Church Street for 0.3 mile until it merges into Devereux Rd. Go left on Devereux Road and follow it for 2.9 miles to Island Creek Church Road (dirt) on the right. Turn right onto Island Creek Church Road and follow it for 3.0 miles. The cemetery is on the right off of the road slightly and under some large, old cedars.
The cemetery is also 1.0 mile from the corner of the T intersection of Island Creek Rd and Island Creek Church Rd.
GPS coordinates: 33 13' 00.4" N 83 10' 14.4" W
or in degrees only form: 33.21678° N X 83.17067° W
See location on a Google map in a new window
(
NOTE:
The map opens in a new window. The cemetery will be at the location indicated by a red marker.)
GMD: 104
Cemetery Status: Inactive
Predominant race: White
Indexer or Contributor: Kathy Fuller and Susan Harrington
Number of persons found: 7
John R. Binion

1819 - 1887

Grave 1
Fannie Butts Binion

1826 - 1903

Grave 2
Olivia J. Smith

Dec 15, 1852 - Aug 16, 1874

Grave 3
Addie H. Smith

Nov 25, 1850 - Sep 18, 1874

Grave 4
George W. Smith

Jun 6, 1816 - Jan 21, 1887

Grave 5
Unmarked Grave - John Lamar Smith

1860 - 1874

All info per Kimbrough. Grave not found in 2002.

Grave 6
Unmarked Graves

Approximately 17 graves marked by bricks or depressions.

Grave 7