Simmons Family Cemetery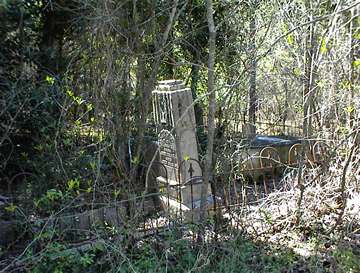 Location:
From the Hancock County Courthouse, go southwest on Hwy 22 for 7.2 miles to Devereux. Turn right (at the backwards fork) onto Main Street. Go 0.2 mile to the dead end and turn left on Jones Chapel / Devereux Rd. Go approximately 2 miles to Powell Grove road on your right. Go on Powell Grove road for 1.4 miles to the end of the pavement and the intersection of Powell Grove, King Road and Sandy Run Rd. Go straight ahead on Sandy Run Road and go 0.4 mile to a modular home on the right (house number 302). Go about 0.1 mile or so down an old wagon road that is to the left of the house. The cemetery is fenced and on the right. The cemetery has many cedar trees and several cherry laurels.
GPS coordinates: 33 14' 06.6" N 83 08' 09.4" W
or in degrees only form: 33.23517° N X 83.13594° W
See location on a Google map in a new window
(
NOTE:
The map opens in a new window. The cemetery will be at the location indicated by a red marker.)
GMD: 101
Cemetery Status: Inactive
Predominant race: White
Fenced. Cleaned in 1999 by the indexers.
Indexer or Contributor: Jewel Thompson, Janice Smith, Patsy Kennedy, Katherine Bray, Anne Chamlee, Bess Cabaniss
Number of persons found: 9
James Simmons


- Sep 20, 1834

Grave 1
Mrs. Ann Simmons


- Sep 20, 1854

Grave 2
James W. Simmons


- Nov 11, 1867

Age 62 yrs, 8 mos. 6 days.

Grave 3
Catherine L. Simmons

May 19, 1811 - Aug 21, 1889

Grave 4
John Simmons


Military Service: American Revolution
Pvt. Ga. Troops

Grave 5
George Algernon Bass

Oct 29, 1872 - Jun 13, 1879

s/o A. S. and Ella G. Bass.

Grave 6
Caroline Josephine Simmons

Jun 29, 1835 - Jul 20, 1908

Grave 7
Mary Rutherford Simmons


- Oct 30, 1840

Age 2 yrs & 2 mos.

Grave 8
Unmarked Adult Grave

Grave 9