Hancock County (Georgia) Cemeteries
Cemetery details
James Butts Family Cemetery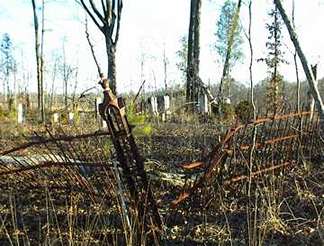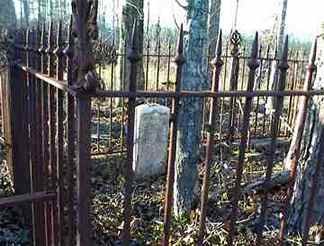 Location:
From the Hancock County Courthouse, go southwest on Hwy 22 for 7.2 miles to Devereux. Turn right (at the backwards fork) onto Main Street. Go 0.2 mile to the dead end and turn left on Jones Chapel / Devereux Rd. Go approximately 2 miles to Powell Grove road on your right. Go on Powell Grove Rd. for 1.4 miles to the end of the pavement and the intersection of Powell Grove, Sandy Run Rd and King Rd. Take Sandy Run Rd which is straight ahead. Follow Sandy Run for 1.5 miles to where it splits. Turn left (onto Road number 148) at the split. Go 0.3 mile to a logging road on the left. Follow (walk) the logging road for 0.8 mile to the cemetery, which will be on the right side of the logging road. The cemetery is on a ridge which looks down on Island Creek to its south.
GPS coordinates: 33 13' 26.1" N 83 09' 14.6" W
or in degrees only form: 33.22392° N X 83.15406° W
See location on a Google map in a new window
(
NOTE:
The map opens in a new window. The cemetery will be at the location indicated by a red marker.)
GMD: 101
Cemetery Status: Inactive
Predominant race: White
A GPS system is recommended. Currently extensive logging has occurred all around the cemetery. The cemetery sits within an iron fence within some trees on the ridge.
The cemetery is on a hill just beyond a hill with the Butts-Simmons Families Cemetery.
Indexer or Contributor: Kathy Fuller, Warren Layfield, Susan Harrington
Number of persons found: 19
Elizabeth Antoinette Jones

Apr 9, 1830 - May 15, 1910

Grave 1
T. J. Jones, MD

Jun 3, 1829 - Mar 8, 1898

Stone broken at death year. Death year per Kimbrough list.

Grave 2
Tommie E. Jones

Oct 24, 1858 - Feb 1, 1873

s/o T. J. and E. A. Jones.

Grave 3
Leola

A child-sized grave with no last name nor dates.

Grave 4
Charlton

A child-sized grave with no last name nor dates.

Grave 5
Guy

A child-sized grave with no last name nor dates.

Grave 6
Ina Coleman

Sep 6, 1894 - Oct 13, 1913

Grave 7
John M. Jones

Nov 27, 1841 - Sep 3, 1899

Grave 8
Laura A. Jones

Feb 17, 1842 - Jul 25, 1908

Grave 9
Thomas H. Coleman

Jun 8, 1856 - Oct 17, 1914

Grave 10
Ellen Butts Coleman

b. Jul 31, 1852
"Mother" No death date. On same stone as Thomas H. Coleman.

Grave 11
J. Wallace Butts, MD

Feb 17, 1839 - Aug 1, 1890

Grave 12
Eulalie Butts

Mar 14, 1873 - May 1, 1878

Grave 13
Saleta H. Butts

1815 - 1892

"Mother"

Grave 14
James I. Butts

1800 - 1887

"Father"

Grave 15
Alpheus S. Butts

Grave 16
Little Garfield

No last name nor dates.

Grave 17
Unmarked Graves

Possibly 1-15 unmarked graves.

Grave 19