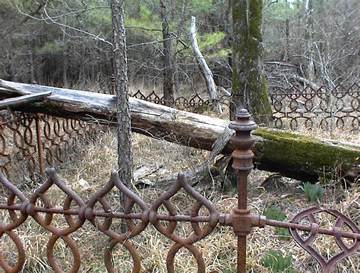 Location:
From the Hancock County Courthouse, go southwest on Hwy 22 for 7.2 miles to Devereux. Turn right (at the backwards fork) onto Main Street. Go 0.2 mile to the dead end and turn left on Jones Chapel / Devereux Rd. Go approximately 2 miles to Powell Grove road on your right. Go on Powell Grove Road for 1.4 miles to the end of the pavement and the intersection of Powell Grove, King Road and Sandy Run Rd. Go straight ahead on Sandy Run Road (staying on the right where it splits after 1.5 miles) and go 2.5 miles from the end of the pavement to an orange, locked gate on your right. Follow (walk) the road into the woods for 0.4 mile. The cemetery is on the right side of the woods road and, as of 2002, was visible from the woods road.
GPS coordinates: 33 14' 27.5" N 83 08' 36.7" W
or in degrees only form: 33.24097° N X 83.14353° W
See location on a Google map in a new window
(
NOTE:
The map opens in a new window. The cemetery will be at the location indicated by a red marker.)
GMD: 101
Cemetery Status: Inactive
There are no marked graves. Two to three unmarked graves are visible within the fenced area.
Indexer or Contributor: Kathy Fuller and Susan Harrington
Unmarked Graves Rowe or Roe

Possibly on old Roe or Rowe property, per Fred Arnold. Fieldstone and grave copings mark 2-3 graves but no names are visible.

Grave 1