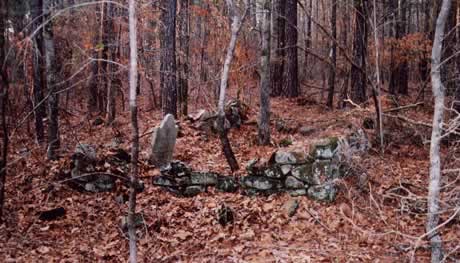 Location:
From the Hancock County Courthouse, go north on Hwy 15/22 for 0.7 mile to Hwy 16 on left. Follow Hwy 16 for 6.1 miles to Hunt's Chapel Road. Turn left and go for 0.7 mile to stop sign. Turn right on Dickens Pond Road and go for 2.3 miles. Enter iron gate on right and go for 0.4 mile to a clearing and then walk an additional 0.5 mile into woods to cemetery.
GPS coordinates: 33 19' 53.4" N 83 05' 11.4" W
or in degrees only form: 33.3315° N X 83.0865° W
See location on a Google map in a new window
(
NOTE:
The map opens in a new window. The cemetery will be at the location indicated by a red marker.)
GMD: 102
Cemetery Status: Inactive
Predominant race: Both Black and White
Possibly a large slave cemetery outside the walled area.
Indexer or Contributor: Winston Stembridge, Mona L. and F. Dean Williams
Mrs. Nancy Brewer Kendall

Nov 29, 1802 - Sep 9, 1826

"Wife of Dr. D. Kendall". m. Jul 29, 1819, d/o John Brewer, Jr. & Mary "Polly" Mitchell Maiden name, parents, marr. date, per info & notes of Loula W. Kendall Rogers at Emory U.

Grave 1