Unnamed Cemetery #11 on northern Centennial Road
Across Centennial Rd from Centennial Church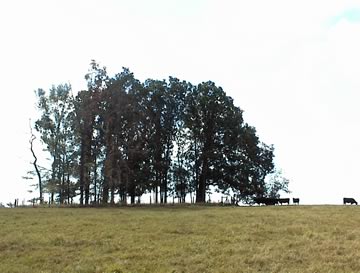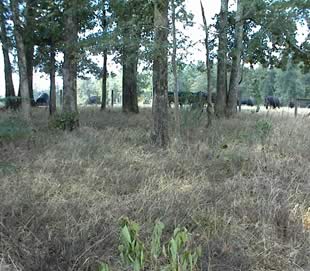 Location:
From the Hancock County Courthouse, go 8.0 miles northwest of Sparta on Hwy 16. You will cross Shoulderbone Creek and pass state highway 77 north. Turn right on Centennial Road and go for approximately 4.7 miles. The cemetery is on your left on the top of a rise in a cow pasture about 250 yards from the road. Easier access may be had by turning on Centennial Church Rd on your left and entering the pasture from there.
GPS coordinates: 33 24' 26.8" N 83 05' 34.4" W
or in degrees only form: 33.40744° N X 83.09289° W
See location on a Google map in a new window
(
NOTE:
The map opens in a new window. The cemetery will be at the location indicated by a red marker.)
GMD: 103
Cemetery Status: Inactive
The cemetery is near the Jackson Shoulderbone plantation house (circa 1850), which is across Centennial Road and slightly south of this cemetery. However there is no known record of former owners of the house being buried in this cemetery (they are buried elsewhere).
The cemetery has been fenced by the current owner of the Jackson Shoulderbone plantation, but there are no marked graves. The fenced area is circular and about 100' in diameter.
Indexer or Contributor: Hugh and Susan Harrington
Unmarked Graves

There are an unknown number of graves. A few field stones and depressions can be seen, but there may very well be graves that are no longer identifiable.

Grave 1