Unnamed Cemetery #9 on Hamburg State Park Rd
On the old Long Rhodes property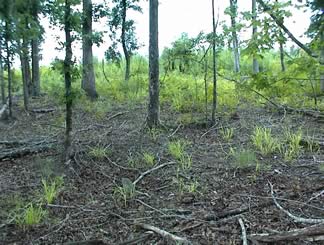 Location:
From the Hancock County Courthouse, go 12.2 miles on Hwy 16 East to Jewell, Ga. Turn right on the paved road (which is Hamburg State Park Rd) before the Ogeechee River bridge. Go approximately 2 miles to a logging road on the right. Park the car and walk 0.1 mile. The cemetery is in a clump of hardwood trees on a slight rise to the left, about 60 yards from the logging road.
GPS coordinates: 33 16' 01.4" N 82 47' 23.9" W
or in degrees only form: 33.26706° N X 82.78997° W
See location on a Google map in a new window
(
NOTE:
The map opens in a new window. The cemetery will be at the location indicated by a red marker.)
GMD: 114
Cemetery Status: Inactive
The logging road is 1.9 miles on Hamburg State Park Road from the intersection of Shoal Road and Hamburg State Park Road.
This cemetery probably predates ownership by the Long Rhodes family.
This property is now owned by International Paper, and we would like to thank them for safeguarding this cemetery and for informing us of its existence.
Indexer or Contributor: Bill Jackson and Susan Harrington