Butts - Simmons Families Cemetery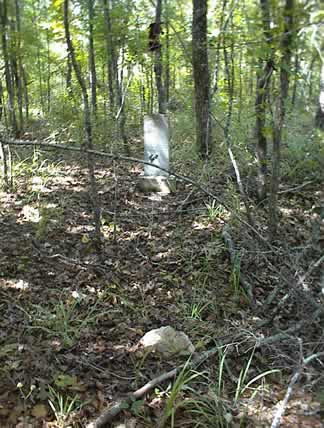 Location:
From the Hancock County Courthouse, go southwest on Hwy 22 for 7.2 miles to Devereux. Turn right (at the backwards fork) onto Main Street. Go 0.2 mile to the dead end and turn left on Jones Chapel / Devereux Rd. Go approximately 2 miles to Powell Grove road on your right. Go on Powell Grove Rd. for 1.4 miles to the end of the pavement and the intersection of Powell Grove, Sandy Run Rd and King Rd. Take Sandy Run Rd which is straight ahead. Follow Sandy Run for 1.5 miles to where it splits. Turn left (onto Road number 148) at the split. Go 0.3 mile to a logging road on the left. Follow (walk) the logging road for 0.8 mile to the cemetery, which will be on the right side of the logging road. The cemetery is on a ridge which looks down on Island Creek to its south.
GPS coordinates: 33 13' 26.7" N 83 09' 17.8" W
or in degrees only form: 33.22408° N X 83.15494° W
See location on a Google map in a new window
(
NOTE:
The map opens in a new window. The cemetery will be at the location indicated by a red marker.)
GMD: 101
Cemetery Status: Inactive
Predominant race: Black
A GPS or guide is recommended.
The cemetery is on a hill just prior to reaching the James Butts Cemetery.
Indexer or Contributor: Bill Jackson, Russell Poss, and Susan Harrington
Number of persons found: 4
Unmarked Adult Grave - Earnest Butts

1897 - 1937

A loose funeral home marker, from Slater's Funeral Home.

Grave 1
Will Simmons

Oct 10, 1890 - Aug 12, 1918

Grave 2
Irving Grayson (?)

Jun 20, 1897 - Dec 29, 1929

Age 32. "(Unreadable) and I am now ready to go". All info handwritten on slab. Last name and birth year very difficult to read. Last name starts with Gray___

Grave 3
Unmarked Graves

Between 100 and 200 graves, indicated by depressions, fieldstones, and very occasionally the remnants of a wooden marker.

Grave 4