Davis Family Cemetery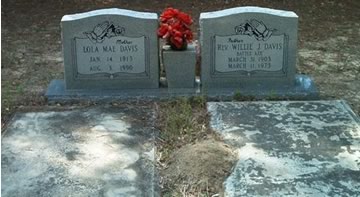 Location:
From the Hancock County Courthouse, take Hwy 22 southwest for 7.2 miles to Devereux. Turn right (at the backward fork) onto Main Street. Go 0.2 mile to the dead end with Jones Chapel (to the left) and Glen Ford / Hall Chapel Rd. (to the right). Turn left on Jones Chapel and go 1.3 miles to Warren Chapel Road. Turn right on Warren Chapel Road and go 1.3 miles to 919 Warren Chapel Road to a driveway going into the property of Ruth Davis (33 14' 16.9" N 83 06' 11.7" W). Proceed to the house. The cemetery is behind the house to the right and back into the woods.
GPS coordinates: 33 14' 22.3" N 83 06' 12.5" W
or in degrees only form: 33.23953° N X 83.10347° W
See location on a Google map in a new window
(
NOTE:
The map opens in a new window. The cemetery will be at the location indicated by a red marker.)
GMD: 102
Cemetery Status: Active
Predominant race: Black
Indexer or Contributor: Mona L. Williams
Number of persons found: 4
Lola Mae Davis

Jan 14, 1913 - Aug 3, 1990

"Mother" Shares same headstone with Willie J. Davis.

Grave 1
Rev. Willie J. Davis

Mar 31, 1903 - Mar 11, 1973

"Battle Axe" "Father". [A preacher for 33 years serving the circuit of churches of Warren Chapel, Jones Chapel, and Sandy Run, per his daughter, Ruth Davis.]

Grave 2
Ruth Davis Robinson

Jul 1, 1946 - Jun 26, 2010

Grave 3
Rebecca Davis Jelks

Dec 12, 1937 - Mar 12, 2011

Age 73.

Grave 4