Hancock County (Georgia) Cemeteries
Cemetery details
Johnston Family Cemetery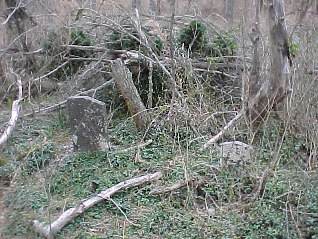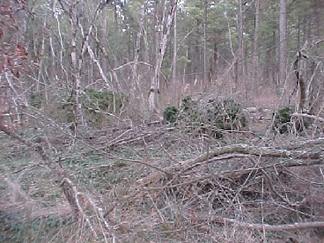 Location:
From the Hancock County Courthouse, go on Hwy 22 east for 12.5 miles to Powelton. Turn left onto McGhee Rd (the first dirt road to the left). Go 1.5 mile to the fork (after 1.5 mile) and turn right. Go another 2.5 miles to the McGhee Home, which is on the left. Across the road from the house is a logging road that goes to a hunting club. Go down the logging road for 0.3 mile keeping to the left when it forks. The cemetery will be on the left about 50 feet off the side of the logging road.
GPS coordinates: 33 26' 40.4" N 82 56' 01.2" W
or in degrees only form: 33.44456° N X 82.93367° W
See location on a Google map in a new window
(
NOTE:
The map opens in a new window. The cemetery will be at the location indicated by a red marker.)
GMD: 107
Cemetery Status: Inactive
Predominant race: White
This cemetery is technically located in Taliaferro County, as Johnson/McGhee Road is the border between Hancock and Taliaferro County along this 3-mile stretch. We include the cemetery here because, prior to 1830, this area was part of Hancock County and also because of the potential of the cemetery becoming a "lost" cemetery.
Indexer or Contributor: Jack and LaRue Johnson
Number of persons found: 8
William Johnston

1758 - Dec 25, 1802

f/o M. Johnston. "In Memory of".

Grave 1
Rebecca Davenport Johnston

1762 - Sep 4, 1843

m/o M. Johnston. "In Memory of".

Grave 2
Eliza Callaway

Jul 22, 1836 - Apr 12, 1845

Grave 3
Kathy S. Johnston

Feb 4, 1780 - Sep 21, 1842

Grave 4
Albon D. Johnston

Jul 14, 1809 - Sep 30, 1829

c/o M. and Kathy S. Johnston.

Grave 5
Amanda M. F. Johnston

Jun 9, 1812 - Dec 19, 1814

d/o M. and Kathy S. Johnston.

Grave 6
William H. Johnston

Jan 31, 1816 - Aug 10, 1817

s/o M. and Kathy S. Johnston.

Grave 7
Unmarked Graves

Possibly other graves.

Grave 8