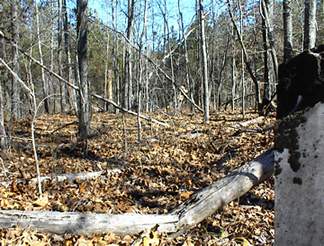 Location:
From the Hancock County Courthouse, go southwest on Hwy 22 for 7.2 miles to the intersection of Hwy 22 and Main Street in Devereux. Turn right on the backwards fork to Main Street and go 0.2 mile to Church Street on the left. Turn left and follow Church Street for 0.3 mile until it merges into Devereux Rd. Go left on Devereux Road and follow it for 0.9 miles to Warren Chapel Road. Turn right on Warren Chapel Road and follow it for 2.7 miles to County Rd 144 and the Warren Chapel Cemetery on your left. Turn left and go 0.6 mile to the Amoss house on your left. Park at the house and walk around the left side of the house to the back. Walk directly out from the back of the house for 0.4 mile, following a hunter's trail / ATV path. After 0.4 mile, the path forks. The cemetery is within the fork but is difficult to see, especially in summer.
Alternately, follow the directions to the Amoss house but continue 0.2 mile further to a logging road on your left. Turn left and follow the logging road for about 1/2 mile to the fork in the logging road, where you will find the cemetery.
GPS coordinates: 33 15' 07.2" N 83 07' 07.8" W
or in degrees only form: 33.252° N X 83.11883° W
See location on a Google map in a new window
(
NOTE:
The map opens in a new window. The cemetery will be at the location indicated by a red marker.)
GMD: 101
Cemetery Status: Inactive
Predominant race: White
Indexer or Contributor: Jewel Thompson, Kathy Fuller, and Susan Harrington
Unmarked Grave - John Amoss

Feb 15, 1817 - Feb 28, 1882

"To live in the hearts we leave behind is not to die." Stone broken. Name & years are gone. All info per John W. Amoss from family Bible records and accounts from Ken Coleman.
Click for more info.
Grave 4
Unmarked Infant Grave - Infant Amoss


- 1898

All info per Kimbrough list. Gravestone not found in 2002.

Grave 5